Becoming Disciples through Bible Study
Informing Minds and Transforming Lives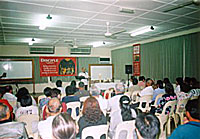 This is about a Roman Catholic group in the North of Malaysia whose participants learn to become disciples through bible study. These Christian believers of Jesus Christ have faith in the Holy Spirit, the giver of life, love, peace, guidance, wisdom, judgment, joy, delight, freedom, salvation, and deliverance.
They are followers of God Almighty, creator of heaven and earth. They are called to be apostles, saints, ministers, missionaries, with a special calling, vocation, mission to preach, evangelize to the gentiles and fellow Catholics. Their religion is based on church theology about truth and scripture. They study the Jewish mosaic law, torah, Pentateuch, Christian Canon and sacred divine revelation of the old and new testament where they find the covenant and Word of God. They examine the richness of the holy bible from Genesis to Revelation, with their many literatures like history, law, prophets, poetry, letters, gospels.
Yahweh has sent His messiah, Jesus Christ, as savior, lord, that whoever believe in Him, will have life to the full. The apostles creed summarizes the doctrine and dogma of the church.
The disciples are blessed and consecrated to become pious, devout, beloved, righteous, chaste.
You too can receive the fruits of the Spirit.... Click the logo to enter into Discipleship...

This program is for Malaysians only.
Download Disciples Promotion Powerpoint Presentation File
Download Disciples Application Form 2006