Becoming Disciples Through Bible Study
"How To Get Peace Of Mind In The Face Of Uncertainties In The World Today!"
The Words of God are the most trustworthy words you can find! It's worth taking a quick look at what the bible actually contains and what they are set out to achieve before going any further.
The bible contains numerous writing of diverse variety: history, laws, short stories, parables, poetry, liturgies, songs, prophetic messages, wise sayings, gospels, letters, sermons, apocalypses and they were written at different periods by different authors.
The bible, inspired by God, is both human and divine. So human, that anyone who reads it with an open heart will certainly find it surprisingly touching to their own lives. Nothing is hidden. Tales about violence, rape, betrayal, adultery, sickness, and death of humans throughout the ages does not only occur then, but they continue in our present times. We see the bible so divine when we encounter the narratives on repentance, faith, just and compassionate laws, acts of devotion and self-sacrifice, and the unending love of the forgiving, covenant God.
The authority of Scripture lies in its ability to cause an Encounter with God. God can speak to us in our own circumstances in our present day, if only we allow Him to.
"All Scripture is inspired by God and is useful for teaching the truth, rebuking error, correcting faults, and giving instruction for right living, so that the person who serves God may be fully qualified and equipped to do every kind of good deed"
(2 Timothy 3:16-17)
So, what exactly can listening to the Word of God bring for your life? Different people experience different life-changing experiences, but one thing is for sure - they will find comfort in the face of uncertainties of today's world, confident that God will be guiding their paths at every instant of their lives.
This require a tremendous amount of faith in the all-knowing, powerful, compassionate, and covenantal God. The faith of the participants will be strengthened as they study the Word of God together with others, participating and sharing their ideas, helping each other in getting insights, and through meditation.
The "Becoming Disciples Through Bible Study Program" is a structured program that uses techniques of group dynamics, audio-visual presentations, and handbooks to guide the participant to a good understanding of God, people, and finally coming to know our role in God's plan of salvation.
There is a tremendous sense of peace in letting go of ones life and letting God take over, so Becoming His Disciples.
"If you make My Word your home, you will indeed be My disciples"
(John 8:31)
By going through the 34 weeks of study of the bible, the messages from Genesis to Revelation will slowly penetrate the heart and challenges the participants to change their worldly thinking into God's thinking. You will move slowly to be at one with God. (Atonement) The Holy Spirit will constantly remind you of what you have learned from the Scriptures.

Is it difficult? Many participants, when they first join the program was apprehensive of the time they have to "sacrifice" The participants who have graduated said that time passes through so very quickly! Once they have got used to the routine, it becomes interesting and enjoyable. The fellowship and discussions amongst the participants have formed strong bonds along the journey. They will tell you that their little "sacrifices" were worth it.
Folks, this is your life! Get to know your God before it is too late! Listen to Him.


Discipleship comes from the word "Discipline". Even without realizing it, by going through the discipline of daily bible study and weekly group meetings, you are in fact training yourself to be a better person. Ultimately, it is you who will profit from this experience.
"For freedom Christ has set us free. Stand firm, therefore, and do not submit again to a yoke of slavery"
(Galatians 5:1)

"Groups from Butterworth, Penang, Taiping, Kulim, Sungei Petani come together for Passover and Retreat"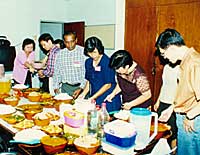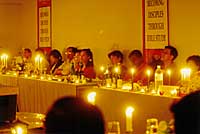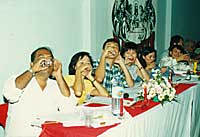 "...and here's a testimonial from a past participant who later became a facilitator!"


"My involvement in DISCIPLE made me realize that our Heavenly Father had a purpose and a plan for me. All these years from my youthful days to the present moment, he was gently and patiently drawing me to Him to experience His love in a personal way through the many events and circumstances in my life.
The scripture reflections, "Encountering the Word" and the personal sharing of my fellow members on the program revealed to me that God loved me for what I am, that He is full control of my life and that I can experience His peace as I put my trust in Him. It also helped me to cast away my fear when I am faced with the unknown."
Anthony Dass, NBVM, Butterworth.
Some More Information... Check our website at http://disciplespenang.tripod.com
What is DISCIPLE?
DISCIPLE is a new approach to Bible study. During the course of 34 weeks, DISCIPLE study groups move through the scriptures from Creation to the New Jerusalem. Each week, a major theme helps the learner grow in understanding the Bible through the challenge of theological views, group discussions, and the use of video presentations.

Objective of DISCIPLE
DISCIPLE is designed to develop, inspire and transform lives through in-depth knowledge and understanding of the Bible.

Commitment for Disciple
If you can say YES to the following questions:

* Do you own a Bible?
* Have you tried reading the Bible at least once a week?
* Do you want to know more about the Word of God and how it relates to your personal experiences and struggles?
* Can you spend 45 min every day, reading and reflecting on the Bible?
* Can you spend three (3) hours every week attending a Bible Study Group Meeting for thirty-four (34) weeks?
* Can you spend 3 days at the end of the 34 weeks for a retreat?


THEN, you are ready to COMMIT YOURSELF to the DISCIPLE program.
Please contact the following persons for registration

Thomas Yoon
English
NBVM, Butterworth
04-4095166 (O)
04-3904975 (H)
P. Savaridas
English
NBVM, Butterworth
04-3315633 (H)
Stephen Raj
English
Sacred Heart of Jesus, Kulim
04-4841735 (H)
012-4310094
Jacinta Joseph
English
Our Lady of Sorrows, Penang
04-2617451 (O)
04-6412804 (H)
Stephen Ho
English
Christ the King, Sungai Petani
04-4212117 (O)
04-4231652 (H)